Among Us (stylized in the Apple App Store as Among Us!) is an online multiplayer science-fiction/social deduction murder mystery game created by Innersloth that runs on the Unity Game Engine. It was first released on June 15, 2018, for Android and iOS - and was later released on Steam on August 18, 2018. On December 15, 2020, a Nintendo Switch edition was released, which is available on the console's Nintendo eShop. On December 14, 2021, Xbox and PlayStation editions were released for Xbox One, Xbox Series X|S, PlayStation 4, and PlayStation 5.[1][2]
The game is set on one of four locations; a spaceship, above-earth base, planet base, or a Henry-Stickmin-themed Airship which contains a group of crew members, among which are up to three Impostors who have to Sabotage the ship/base/planet and kill off the Crew. Crewmates have to complete their chosen tasks, report bodies of other Crewmates who are killed, and initiate emergency meetings if they witness another player doing something incriminating or suspicious.
By 2020, Among Us was considered by Innersloth to be a complete game, and as of June 11, 2020, MIRA HQ and Polus, which were previously paid for, were released for free for players playing both on Windows and Android/iOS/iPadOS to host. The game gained an increase in popularity in 2020 due to famous Twitch streamers and YouTubers playing it. A sequel, titled Among Us 2, was announced by Innersloth on August 18, 2020, and was scheduled to be available by 2021 but was canceled in September. Work will instead improve the original game due to the unexpected popularity of the original Among Us. Also, many forms of merchandise, such as T-shirts and toys, have been announced and launched.
Overview
Among Us can either take place on a spaceship in outer space, a building high in the Earth's atmosphere, an alien planet, or an airship. There are two types of roles: The Impostors and the Crewmates. There can be a total of 15 players in an online game, with up to three Impostors. The Impostors' objective is to eliminate players and Sabotage using either aggressive, defensive, or passive tactics before the Crewmates complete all of their tasks or discover everyone's true identity. The Crewmates' objective is to complete all of their tasks, avoid being killed, and figuring out who The Impostors are. All tasks are mainly visual and provide a fine user-friendly interface for players of all levels and ages. Additional roles were released in version 2021.11.9. These new roles include Engineer, Scientist, Guardian Angel, and Shapeshifter.
History
2018
The beta version of the game was officially released on Android and iOS on June 15, 2018.
The Windows version of the game was released on Steam on August 17, 2018, two months after the mobile release.[3]
Innersoth officially announced a new version of the game for Windows and mobile in version 2019.8.24.[4]
Innersloth worked on many bug fixes during 2018.[5]
New content was added in version 2018.9.20.[6]
On another update, the game received kick and ban controls, which allows the host to kick or ban any player from a room and sound effects.[7]
On October 4, 2018, Forest Willard showed Among Us gameplay data, as several players began hosting more than 100 games per day.[8]
On October 11, 2018, Innersloth announced the addition of hats.[9]
On December 2, 2018, Innersloth officially announced a Christmas-themed hat bundle for Among Us, in Windows and mobile. However, mobile players would be required to pay US$3 to obtain the new hats.[10]
On December 22, 2018, Innersloth announced fixes to server issues due to the increase of players, as well as a New Years hat, which became available until January 4, 2019.[11]
2019
Among Us received another update in 2019, with new content[12] including official translations for other languages (Korean, Brazilian Portuguese, Spanish, and Russian) and a map filter, which officially confirmed the development of a second map.
A new map, named Polus, was officially announced by Innersloth on November 1, 2019 with a trailer on its YouTube channel.[13]
On November 5, 2020, Innersloth announced that MIRA HQ would have more hack-resistance and stated that Polus would be released the same way they released MIRA HQ, as additional paid content.[14]
Polus was officially released on November 12, 2019, costing US$4.00 and required players to update Among Us to version 2019.11.12.[15]
2020
On January 2020, Innersloth announced its plans for Among Us in 2020, like:[16]

Reducing prices of MIRA HQ and Polus on the same day.
Polus will also become free on the same day.
MIRA HQ and Polus will become free for all players starting June 11, 2020. However, its skins will remain paid.

On August 18, 2020, Innersloth officially announced a sequel to the game, named Among Us 2, which would feature new contents like new game modes, a friend system along with accounts, a moderation system, and increasing the player limit to 12-15 to balance three Impostor matches. Innersloth revealed that Among Us's core code wasn't built in a way to easily add the addition of new content.[17]
On September 23, 2020, after several discussions about the future, Innersloth decided to cancel Among Us 2, so development focus would go back to the original game. It was concluded that all the planned content for Among Us 2 will instead go into the original game.[18]
In early October 2020, Innersloth released a public beta for the game that added Anonymous Voting, color-blindness support for Fix Wiring, and the ability to remove the task bar.[19] This update was eventually released to mobile on November 2, 2020.
The Nintendo Switch edition of the game was released on December 15, 2020[20] which was ported by an external development company, PlayEveryWare.
2021
Innersloth announced all its plans for Among Us in 2021 and thanked everyone for making the game a great success they were not expecting.[21]
On March 9, 2021, Innersloth announced that The Airship would be released on March 31 that year, along with accounts, new hats, and more.
On March 24, 2021, Innersloth revealed more information about the accounts system.[22]
On March 31, 2021, Innersloth released The Airship along with Accounts.
On June 10, 2021, Innersloth announced a big roadmap: 15 player lobbies, 6 new colors, a new unknown map, new roles, the Hide and Seek mode, achievements, visor cosmetics, and them taking a nap.
On June 15, 2021, Innersloth released 6 new colors, 15 player lobbies, a new emergency meeting screen, new emergency meeting and report animations, a new art style, and the ability to honk a horn added to Cockpit on The Airship.
On June 30, 2021, Innersloth announced a new task, Clean Vent, along with bug fixes. Both were confirmed to be releasing on July 7th of that year.
On November 9, 2021, Innersloth released an update that introduced new roles, visor cosmetics, account linking, and achievements, as well as a new way to obtain cosmetics in Cosmicubes.
Video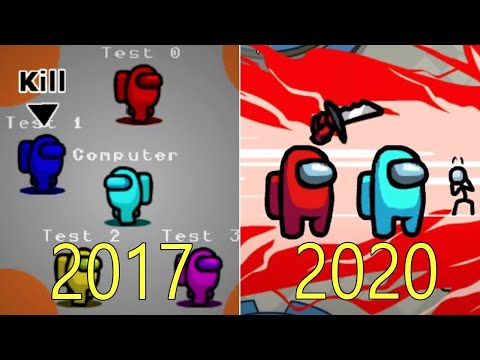 Gameplay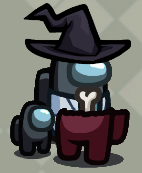 Among Us is a murder mystery game that can take place either in a spaceship named "The Skeld," the headquarters of the company MIRA, a research base on the planet Polus, or an Airship. Among the players, one to three will be randomly chosen as Impostors, who need to blend in and kill the Crewmates. The Crewmates' goal is to complete tasks in the form of mini-games, such as fixing wiring, emptying garbage, or swiping an ID card, all the while having the goal of finding out who The Impostors are and voting them out. Impostors can Sabotage the map, which results in either a problem that will cause the Crew an inconvenience until fixed (e.g., turning off the lights, which affect the vision of the Crew, and messing up the Communications, which disables several useful features for the Crew and at the same time); or even a severe problem which gives the Crew an important task that must be completed under a time limit (such as depletion of the oxygen aboard the ship or meltdown of the reactor inside). The Impostors' goal is to kill off enough Crewmates for an equal amount of Impostors and Crewmates left, which results in a win for The Impostors as they theoretically could not be voted out. They are able to do this using the aforementioned sabotaging mechanic, though their main strategy is to directly murder each and every member one by one.[23]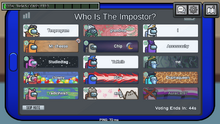 Players can interact with various useful resources, such as a camera system, a sensors system, an administration panel, and a vitality machine, which can help crew members catch An Impostor killing a player, shapeshifting, or entering a vent. When a player finds a dead body, they can report it, which pauses the game and leads to a discussion where people can chat to find out who The Impostors are. Players can address evidence found with deaths and vote for a person they think is An Impostor. The player with the most votes will be ejected from the map, and the game will reveal if they were An Impostor (if Confirm Ejects is activated). Also, if players are unsure of who may be An Impostor, they can skip the vote. If the most votes are cast to skip, no one will be ejected. This also occurs when the number of votes toward two or more players is equal; that is, it is considered a tie.[23]
When a player dies, they will become a ghost, who can explore the map without colliding with the walls. However, they are not visible to the living Crew and can only be seen by other ghosts. Their communication system is limited, as they can only interact with other dead or ejected players, and they cannot resolve Sabotage. If they are a Crewmate, they can still complete tasks. In the same way, Impostor ghosts can still Sabotage to disrupt the Crewmates who are still alive. Before a game starts, players can configure certain game options, such as the number of Impostors, speed, map, kill cooldown, among others. They can also customize their character with cosmetics, such as colors, skins, hats and pets.[23]
Character Customization
Colors
Players can choose from a total of 18 colors. These include Red, Blue, Green, Pink, Orange, Yellow, Black, White, Purple, Brown, Cyan, Lime, Maroon, Rose, Banana, Gray, Tan, and Coral. There are two extra colors (Fortegreen and Olive) that are/were in the game or that were planned to be in the game but are currently inaccessible by players. Players may also choose from different skins, hats and pets to alter cosmetic appearance.
Skins
Skins were added in 2019, including several clothes like police, white hat, military, captain, etc. New skins were also added during the MIRA HQ release: one for chemists and one for security and the Polus map launch: one in cold clothing and the other in mining. The skins, including hats, require payment on the mobile version. On Windows, they are available after purchasing the game. When the two maps were released, each map's exclusive skins were only obtained after purchasing it. The skins for both maps were still premium.
Hats
Hats were added in version 2018.10.10 of the game, which included several hats for players to customize the character, such as caps and masks, Halloween, or Christmas hats. There were new hats in the Halloween updates, such as a hockey mask, devil horns, a knife, etc. It also received new hats in the special Christmas updates, such as a Santa Claus hat and antlers, among other different hats.
In version 2019.5.28, new hats were added, including five hats for free and a paid pack of eight hats on mobile and free on computer. In version 2020.6.11, new hats were added, such as the balloon hat, masks, and tufts among others.
Visor cosmetics
Visor cosmetics were added in version 2021.11.9, including several accessories that are attached to the player's visor. Many new visor cosmetics were added, and several previous hats were converted into visor cosmetics.
Pets
Added in version 2019.6.12, pets are small creatures that will follow the player around. Each pet also has unique animations and reactions to its "owner" dying. As of now, there are a total of 11 different pets available.
Maps
The Skeld
The Skeld is the first map of Among Us, also becoming the only free map in the game before June 2020. The Skeld is set within a turtle-shaped spaceship, which the Crewmates used to travel around outer space. Crewmates must complete tasks on the ship and figure out who each Impostor is.
MIRA HQ
MIRA HQ is the second map released in Among Us. Unlike the others, the map was released as paid content and is set on a sky base, rather than a spaceship. The map was officially announced on August 3, 2019, and was released to the public on August 8, 2019.[24][25] Unlike The Skeld, Impostors can freely roam around vents that are not adjacent to a specific vent.
Polus
Polus is the third map of Among Us, announced on November 1, 2019, and released on November 12, 2019. It takes place in a research base on the rocky, purple planet of Polus. This map features similarities to both The Skeld and MIRA HQ while also having its features. Due to being a terrestrial planet, there are no ventilation systems on the planet, but rather holes. This map is also currently the second largest in Among Us.
The Airship
The Airship was announced by Innersloth on September 23, 2020, as part of the new content added to Among Us after its sequel's cancellation, Among Us 2. The map is based on the Toppat Clan Airship from Infiltrating the Airship, a Henry Stickmin game also developed by Innersloth. It is the fourth and the largest map. It contains several new tasks and new mechanics in it, such as ladders and moving platforms. It is released on March 31, 2021.
Settings
Language
The game supports the following languages:
English
Spanish (Latin America)
Spanish (EU)
Korean
Japanese
Traditional Chinese
Simplified Chinese
French
Italian
German
Dutch
Russian
Portuguese (Brazil)
Portuguese (EU)
Irish
Filipino (Bisaya)
Controls
Future
On January 6, 2020, developers said that "[they] thought it was a completed game twice in the past as we came back to add online multiplayer and two new maps. But as of the Polus release, we're sure that Among Us is a complete game. There are always things that people want and things we could potentially add, but Among Us was always intended to be a small game, and we are just a team of three people with one programmer. We've already added a lot to a small game, the difficulty of adding new features and content is now very high. You all can see this difficulty in terms of bugs that seemingly never get fixed. Adding more things would undoubtedly add more bugs. So from now on, we are not adding more to Among Us. There will be a few bug-fix-only updates and a plan of price changes, then we will let Among Us take its natural course." Then, they intended that Among Us servers would run until "at least 2021. Probably longer." They also said, "We will announce if we are stopping the servers and provide some alternative," If this is the case, the game will possibly be able to be self-hosted.[16]
Canceled Sequel
On August 18, 2020, Innersloth officially announced that a sequel to Among Us, titled Among Us 2, was in development due to the game's core sections not being built and adapted to support the addition of new content. They also pointed out that "Among Us servers would stay alive for as long as it had enough players to start games."[17] However, after several long discussions between the developers, they announced the sequel would be canceled, with all new features of the sequel implemented the original game.[18]
New Content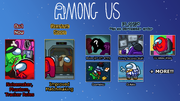 The developers have announced the following new content coming to the game:
Planned
Console Release
Among Us was released for the Nintendo Switch family of systems on December 15, 2020, and is available on the Nintendo eShop for US$5.00.[26] This was firstly announced at the Nintendo's Indie World conference on the same day. The game was ported by PlayEveryWare, an external development team.[27][28] It has also been confirmed to release on the Xbox One, Xbox Series X|S, PlayStation 4, and the PlayStation 5,[1][29][30] which released on December 14, 2021.[2]
Trivia
Among Us was inspired by the real-life group social deduction game, Mafia,[31] and by the science-fiction horror film The Thing.[32]
When developing The Skeld, the ship was intended to be always in crisis and Impostors could do tasks to mix themselves with the Crewmates, however, it was discarded as they found it "stressful" and that would affect discussions.[33]
Innersloth has planned to launch Among Us for consoles, specifically PlayStation 4 and Xbox One, but found a problem implementing player communication, as text or voice chat seemed to be useless.[34]

Despite this issue, Innersloth was able to launch Among Us on Nintendo Switch on December 15, 2020, which is likely because, similarly to a phone, the Switch and Switch Lite both have touch controls in handheld mode, which can be used for typing in the chat.[20]

MIRA HQ and Polus originally served as additional paid content for Among Us until its update on June 11, 2020, when the two maps were made permanently free for everyone.

During this period, these two maps had free weeks for all players to host temporarily.
Currently, the exclusive skins from these maps are paid additional content for the game.

Among Us may have been internally named "Space Mafia" during development, as the Play Store's app package name is "com.Innersloth.spacemafia."[35]
During its history, the game faced, and is facing, several bugs:
According to Innersloth, Among Us took six months to enter open beta and more than six months to exit from open beta.
The characters' design is similar to the Morolians from Space Channel 5.
The Henry Stickmin series, which is also developed by Innersloth, is referenced many times in Among Us for significant motives.
Even though the game was made back in 2018, it only became popular with major new updates in 2020. The popularity was due to Twitch streamers, especially Korean ones.
On some platforms, the icon for Among Us was changed in version 2021.6.15 to match the altered art style.
Awards
Award
Date of ceremony
Category
Result
Reference
Golden Joystick 2020
November 24, 2020
Breakthrough Award
Won
[37]
The Game Awards 2020
December 10, 2020
Best Mobile Game
Won
[38][39]
Best Multiplayer Game
Won
[38][40]
Steam Awards 2020
January 3, 2021
Labor of Love Award
Nominated
[41][42]
Easy Allies Awards
January 26, 2021
Best Multiplayer Game
Won
[43]
Nickelodeon Kids' Choice Awards
March 13, 2021
Favorite Video Game
Won
[44]
Unity Showcase Awards
March 19, 2021
Best Multiplayer Game
Won
[45]
Webby Awards
May 18, 2021
Breakout of the Year
Won
[46]
Pocket Gamer Mobile Games Awards
July 20, 2021
Best Indie Developer
Won
[47]
Global Industry Game Awards
August 27, 2021
Support: Community Management
Won
[48]
App Store Awards 2021
December 2, 2021
Top Trend of 2021
Won
[49]
Audio
Videos
Gallery
| | |
| --- | --- |
| | If you want to see the gallery of Among Us, click here. |
Links
References