DEAD ON VITALS


This article is about a canceled project for Among Us and therefore may be out of date.
Among Us 2 was the planned sequel to Among Us by Innersloth announced in August 2020. However, on September 23, 2020, Innersloth officially announced the cancellation of Among Us 2, only a little more than a month after the original announcement, due to the already existing attention and love of Among Us.[1] Luckily, however, the content planned for Among Us 2 will still be added in some capacity in an update to Among Us at some point in the upcoming future.
Overview
Among Us 2's gameplay was going to be very similar to the original Among Us, but with upgraded features. Innersloth had planned for the servers to be much larger and with more players in a match than the 10 player limit in Among Us, with the sequel reaching for a 12 to 15 player limit with multiple Impostors. Multiple modes and roles were also planned as well.
Maps
No maps have been confirmed; however, Innersloth stated not to expect them to copy all three maps directly over.
Timeline
Timeline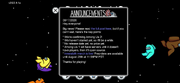 Innersloth officially announced an upcoming sequel to Among Us on August 18, 2020, with some predictions:[2]
Innersloth officially announced the cancellation on September 23, 2020.[1]
Trivia
Unlike Among Us, Among Us 2 would have first released on PC due to taking less time to launch, then later on mobile as the game would have had to go through an approval that could have taken hours or even days.
Among Us 2 was supposed to have updated code. Due to its cancellation, the original Among Us will likely have updated code sometime in the future.
References
Community content is available under
CC-BY-SA
unless otherwise noted.