The Among Us Wiki rules are designed to protect all users on the community as well as the community itself. These rules are enforced by the Among Us Wiki staff.
Everyone who contributes to the Among Us Wiki in any way is subject to these rules. Users who disobey these rules will be warned. Users who persist will be blocked from the wiki for a period of time depending on the severity of the situation and their past actions.
If you see any user breaking a rule, contact a staff member on their Message Wall or create a ticket in the Discord server.
If you'd like to provide feedback or suggest changes to these rules, please leave a message on the talk page.
Terms of Use
All users on Fandom must adhere to Fandom's Terms of Use at all times. This includes no hateful or obscene content, no impersonating other users, no harassing or intimidating other users, no soliciting personal information of other users, and no underage users.
Rules
User Conduct
These rules pertain to all areas on the community.
Show respect for other users and be civil at all times.
Be a productive member of the wiki. Do not go against the established processes and conventions or disrupt the wiki by "edit warring" over differing opinions of a topic.
Dating, shipping, or similar acts are not permitted.
This wiki is about Among Us. Unrelated topics are not permitted anywhere on the wiki or Discussions. This includes politics, religion, social issues, and issues with other wikis.
Do not distribute information on Among Us leaks. This includes content that was not intended to be released.
All discussed mods must follow Innersloth's mod policy and clearly state it is a mod. Anything that is prohibited or discouraged by Innersloth is not allowed, including hacks or unlocking paid items. All advertised mods must be free to obtain and use. (though additional minor features like cosmetics may be paid) Any links to information about mods must be on reputable distribution sites. (like GitHub or itch.io) Mods may only be mentioned in the mods article or mods discussion category.
Advertising is not permitted. This includes Discord servers, YouTube channels, social media accounts, or any other third-party content. Linking to related wikis, such as the Henry Stickmin Wiki, is only permitted if the link is relevant and helpful. Unrelated wikis may be linked on user pages.
Alternate accounts can only be used within reason. It must be made clear that your alternate accounts belong to you. Do not use alternate accounts to evade a block or to pretend to be someone else (sockpuppetry).
Do not delete official staff warnings from your Message Wall. This will simply result in further warnings.
Only staff members are allowed to issue warnings and reminders. If you see something that violates our rules, please report it to a staff member so they can take care of it.
Wiki Content
These rules pertain to wiki articles.
Assume good faith. If another user makes a bad edit, do not assume they are being malicious. We all started somewhere! Reach out to them, explain the issue with their edit, and help them learn.
Do not add fan fiction or fan art to articles. Only canon information is permitted. Make sure to cite your sources when adding new information.
Think first before creating pages. All articles should be related to Among Us, have plenty of information, and serve an actual purpose. Never create an article without thinking through why you're making it, and check to make sure that another page for the same or a similar topic is not already present on the wiki.
Use appropriate grammar. Follow the Manual of Style and follow American English spelling and grammar conventions.
"Farming" edits is not permitted. Making multiple edits in a short amount of time spams the wiki activity log. Use the preview function before submitting your edit to ensure it is complete and looks correct.
Refer to the Manual of Style for guidelines on images, templates, and guides.
Discussions
These rules pertain to the Discussions area.
Posts and comments may be deleted at any time if a moderator does not feel they adequately contribute to the community. Low-effort posts are not permitted. This includes very short posts, introduction posts, LFG or lobby code posts, low-effort memes or art (including art generators), or low-effort polls.
The majority of a post or roleplay must be related to Among Us. For more specific details on what this means, check this post.
Place your posts in the correct category. Incorrectly-categorized posts may be moved or deleted.
Do not create duplicate posts or polls. Do not recreate a deleted or locked post or poll.
Videos can only be posted within reason. Blatant advertising is not permitted. Videos must be embedded, not linked.
Do not solicit likes or replies. Such posts will be deleted.
Do not mention other users unless you firmly believe they would have a significant interest in seeing the post, or if they're part of the discussion already.
Roleplay is only permitted in the Roleplay category. You may only create one post for a specific roleplay. If sign-ups are accepted, they must also be in that one post; multiple posts for a single roleplay are not permitted.
Do not revive old threads (necropost). If a post has not been replied to in over a month, it does not need another reply.
Polls
Follow this chart from top to bottom to determine whether you should post your poll.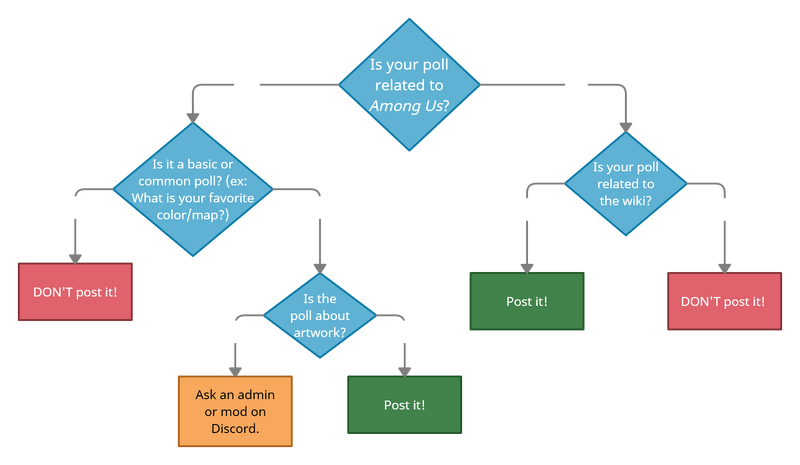 Blog Posts
These rules pertain to user blogs and user blog posts.
Some Discussions rules apply here: Low-effort posts and comments, duplicate posts, soliciting comments, and attempting to revive old blog posts are not permitted.
Neither fan art nor roleplay are permitted in blog posts. These are better suited in Discussions.
Do not add categories to blog posts. The only category permitted on blog posts is the auto-generated Category:Blog posts.
Punishments
Users who break our rules will be warned or potentially blocked from the community.
Warnings
The following is a general guideline of what happens after breaking the rules. This is only a guideline. The number of warnings before a block and the length of each block depend on the severity of the actions.
Reminder (doesn't count as a warning)
First warning
Second warning
Third warning
Fourth warning
Fifth warning and short temporary block
Sixth warning and medium temporary block
Seventh warning and long temporary block
Eighth warning and longest temporary block
Ninth warning and permanent block
Block Lengths
The following table is a general guideline of block lengths as mentioned above. This is only a guideline. The length of a block depends on the severity of the actions, which include, but are not limited to:
Reason
Block Length (days)
Short
Medium
Long
Longest
Low-effort posts
12 hours
2
7
14
Off-topic posts
1-2
7
14
30
Manual of Style violation (ex: bad images)
2
7
14
30
Intimidating behavior/harassment
5
14
30
90
Spamming
5
14
30
90
Inserting false information
5
14
30
90
Vandalism
7
14
30
90
Illegal activity
Permanent
Appealing
If you are blocked for 2 weeks or longer and you feel the block was unjust, you may appeal the block by contacting the blocking admin on their Message Wall at Community Central. To identify who blocked you and the reason for the block, check the notice at the top of your contributions page. Please include the reason for the block in your appeal message.
Please provide the admin with 24 hours to respond to the appeal message. If the admin does not respond within 24 hours, you may send your appeal to Fandom Staff. Per Fandom's wiki rules and blocking policy, if the appeal is not sent to the admin first, or the admin is not given 24 hours to respond, Fandom Staff will deny the appeal.