The Among Us Wiki rules are designed to protect all users on the community as well as the community itself. These rules are enforced by the Among Us Wiki staff.
Everyone who contributes to the Among Us Wiki in any way is subject to these rules. Users who disobey these rules will be warned. Users who persist will be blocked from the wiki for a period of time depending on the severity of the situation and their past actions.
If you see any user breaking a rule, contact a staff member on their Message Wall or create a ticket in the Discord server.
If you'd like to provide feedback or suggest changes to these rules, please leave a message on the talk page.
Terms of Use
All users on Fandom must adhere to Fandom's Terms of Use at all times. This includes no hateful or obscene content, no impersonating other users, no harassing or intimidating other users, no soliciting personal information of other users, and no underage users.
Rules
User Conduct
These rules pertain to all areas on the community.
Wiki Content
These rules pertain to wiki articles.
Discussions
These rules pertain to the Discussions area.
Polls
Follow this chart from top to bottom to determine whether you should post your poll.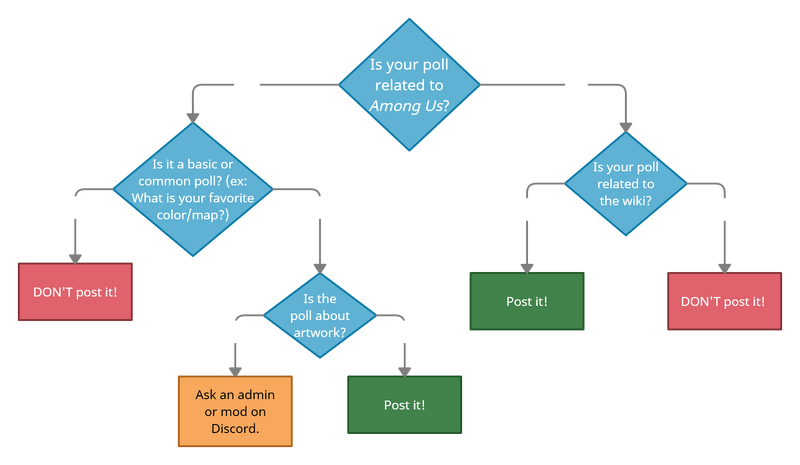 Blog Posts
These rules pertain to user blogs and user blog posts.
Punishments
Users who break our rules will be warned or potentially blocked from the community.
Warnings
The following is a general guideline of what happens after breaking the rules. This is only a guideline. The number of warnings before a block and the length of each block depend on the severity of the actions.
First warning
Second warning
Third warning
Fourth warning
Short temporary block
Medium temporary block
Long temporary block
Longest temporary block
Permanent block
Block Lengths
The following table is a general guideline of block lengths as mentioned above. This is only a guideline. The length of a block depends on the severity of the actions, which include, but are not limited to:
Reason
Block Length (days)
Short
Medium
Long
Longest
Low-effort posts
12 hours
2
7
14
Off-topic posts
1-2
7
14
30
Manual of Style violation (ex: bad images)
2
7
14
30
Intimidating behavior/harassment
5
14
30
90
Spamming
5
14
30
90
Inserting false information
5
14
30
90
Vandalism
7
14
30
90
Illegal activity
Permanent
Appealing
If you are blocked for 2 weeks or longer and you feel the block was unjust, you may appeal the block by contacting the blocking admin on their Message Wall at Community Central. To identify who blocked you and the reason for the block, check the notice at the top of your contributions page. Please include the reason for the block in your appeal message.
Please provide the admin with 24 hours to respond to the appeal message. If the admin does not respond within 24 hours, you may send your appeal to Fandom Staff. Per Fandom's wiki rules and blocking policy, if the appeal is not sent to the admin first, and the admin is not given 24 hours to respond, Fandom Staff will deny the appeal.
Community content is available under
CC-BY-SA
unless otherwise noted.