THIS ARTICLE CAN BE USEFUL FOR NEWCOMERS
For those who recently started playing

Among Us

, this article may be very useful to learn how the game works and what to do.
Cosmetics are items in Among Us used to customize characters. There are three types of cosmetics: hats, skins, and pets. Hats are worn on players' heads, skins are worn on their bodies, and pets follow the player around until the player is killed by An Impostor or ejected.
Some hats are free and automatically owned by the player on mobile platforms, while a variety of other cosmetics can be unlocked by paying real money (between $0.99 and $2.99). On the paid PC version, all skins and hats are free (except the ones included in the MIRA HQ and Polus bundles), but pets are still required to be bought to obtain. Purchases do not sync across platforms. Cosmetics can be bought via the shop, and owned cosmetics can be worn in the lobby before a game starts.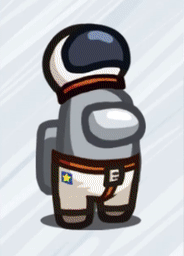 Cosmetics grant little gameplay advantage and mostly serve the purpose of supporting the developers.[1] However, if someone is An Impostor and is running away or using a vent, people can identify them by a hat or pet because they make the space of their character larger. On the other hand, if someone is a Crewmate, then cosmetics could be used to verify that a player was in a location. If a Crewmate had a pet when killed and The Impostor then called an emergency meeting to hide their body, their pet could later be found where they died.
Some skins and hats slightly hide the color of the player, which can confuse other players. A player might be distracted by The Impostor's clothing, then forget what color The Impostor is during an emergency meeting. The most recent version of Among Us features that a player's hat and skin show up on their voting icon, but not their text icon. This is mostly to help colorblind people or stop the very thing explained above.
List of Hats
List of Skins
Skins

MIRA HQ Skin Bundle

Polus Skin Bundle
List of Pets
Pets




Bundles
Holiday '18 Hats Bundle
A bundle of eight different hats was added as the "Limited Holiday '18 Hats Bundle"[2] made purchasable during the holidays of 2018 on the mobile version of Among Us for $2.99, and every subsequent year. On the PC version, the hats from this bundle are free with the bundle automatically added during the Holiday period.
Halloween Hat Bundle
A free bundle of twelve hats was released during October 2019, around Halloween. This bundle will be unlocked every October.
1M Downloads Hat Bundle
A bundle of eight different hats can be purchased for $2.99 (all hats are included in that purchase). This bundle was created to celebrate Among Us receiving 1 million downloads. They are included for free in the PC version.
MIRA HQ Skin Bundle
A bundle of three skins and hats can be purchased for $1.99. Originally the bundle also included the MIRA HQ map, until it was removed when it was released for free.
Polus Skin Bundle
A bundle of three skins and hats can be purchased for $1.99. Originally, the bundle included the Polus map along, until the map was removed when it was released for free.
Trivia
There are sprites for unused hats in the game files, including a traffic cone, a drinking hat, a headcrab, and a pan.
Many skins and hats reference Marcus Bromander's Henry Stickmin series:
As of the v2020.10.22s beta, cosmetics are visible on the voting screen.
The Halloween hats can be unlocked before or after Halloween by setting the device's time to October.
Any player playing as Fortegreen is unable to select cosmetics, and will appear wearing the military suit.
Cosmetics that would normally be purchased in the shop are unobtainable on the Nintendo Switch version of the game.
References
Community content is available under
CC-BY-SA
unless otherwise noted.