Crewmates, also known as Crewmembers or The Crew, are one of the two possible randomly assigned roles in Among Us.
Goals
The primary goal of a Crewmate is to complete all tasks without being killed by An Impostor, with the secondary goal of finding all Impostors and ejecting them off the map. Crewmates who have been killed by An Impostor or ejected become ghosts.
There are two ways for Crewmates to win:
All Crewmates (including ghosts) complete all their tasks.
All Impostors are eliminated from the game.
Impostors are primarily eliminated through ejection votes, but leaving, disconnecting, or being kicked also contributes towards the elimination goal.
The Crewmates are assigned a variety of tasks such as Fix Wiring, Upload Data, Fuel Engines, etc.
Abilities
Report
A Crewmate can use the report ability to report a dead body and bring the entire Crew and all Impostors into an emergency meeting to discuss who The Impostor may be. Impostors also have this ability. The report button appears above the use button.
Use
A Crewmate can use for a variety of interactions. The most common interaction is to activate and complete tasks. Crewmates can also use the emergency button to call an emergency meeting manually when possible. Impostors also have use as an ability but cannot complete tasks with it. Use is in the bottom right corner of the screen, and can be replaced by Security, Admin, Vitals, or Doorlog when near the appropriate panel.
Death
When An Impostor kills a Crewmate, their body drops to the ground, broken in half with a bone sticking out, and the Crewmate turns into a ghost, appearing next to their body. A Crewmate can freely move through walls in this state and can (and must) complete tasks to help the Crewmates win. Ghosts can communicate at all times through the chat, but their messages are only visible to other ghosts. They also cannot call emergency meetings or resolve Sabotages. Ghosts are not visible to players that are still alive.
Bodies of Crewmates will remain on the map until a body is reported or a meeting is called. If an eliminated Crewmate has a pet, it will stay on the spot they died.
Trivia

It did not take long to create the Crewmate design. The only other concepts were a version without a backpack, one resembling the Mini Crewmate, and one shaped like a star.[1]
The Crewmate's species is unknown. While at first glance they appear to be cartoonish humans in almost-featureless colored space suits, the MedBay scanner states the Crewmates are only three feet and six inches (approximately one meter) tall, much shorter than the average adult human. They still require oxygen to survive.

Many official Twitter posts from Among Us developers, as well as in-game details, disprove that Crewmates are humans.
Their hands are also not visible when not in use and only show up in certain scenarios. They also lack arms, and their hands appear suspended in mid-air and can even appear and disappear at will.

Upon movement, all Crewmates, and Impostors, will have a "squinted" viewing visor.
With a height of 3' 6" and a weight of 92 pounds, all Crewmates except Fortegreen have a BMI of 36.7. According to the Centers for Disease Control and Prevention, this BMI equates to Class 2 obesity in humans, although the extra weight could be the spacesuit or just the healthy weight of the Crewmate's species.

Fortegreen is also 3' 6" tall but has a weight of 132 pounds, which gives them a BMI of 52.6 and equates to Class 3 obesity in humans.

Originally, the viewing visor would not be a baby blue like color in the beta version. Instead, it would be the same color as the suit.
Several gaming websites criticize the Crewmate role, one of the Rock, Paper, Shotgun, as Craig Pearson considered this role "exhausting." [2]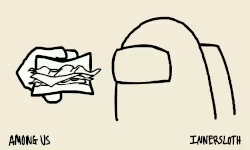 Across different locations and maps, donuts and slices of pizza can be found, and The Airship features the Make Burger task, all implying that the Crewmates eat food of many varieties, although the specifics are never seen. It is known that their suits don't have openings and they do not eat with visible mouths[6].
Another tweet from the Among Us developers on Twitter says that Crewmates drink through osmosis.[7]
A vending machine in Cafeteria on MIRA HQ shows that one Crewmate hobby is surfing. Additionally, several appliances on Polus show another hobby is watching movies.
The language spoken by the Crewmates is unknown, but multiple English inscriptions are found across the maps, including the location indicators.
It has not been confirmed by Innersloth what the Crewmates look like without their spacesuits, or if the spacesuits are a part of their body or not.
Gallery
Audio
| Description | Audio |
| --- | --- |
| The sound played when the Crewmates win. | |
References
Roles

Crewmate

Impostor

Ghost

Sheriff

Scientist

Shapeshifter