Halloween is a real-life holiday celebrated within Among Us every October. The first in-game celebration of Halloween was in 2019 and has since been a celebrated event. During Halloween, players have access to unique hats, and maps are decorated with special objects such as ghosts, pumpkin lanterns, and more!
Maps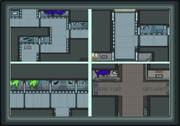 From October 19 to October 31, The Skeld and MIRA HQ are decorated with cobwebs, spiders, bats, pumpkins, slime, and other spooky decorations. Polus and The Airship are not decorated during this time.
Hats
The Halloween event has a set of 12 exclusive hats that players can keep after the event finishes. The hats will be automatically added to the player's inventory upon logging in during October. Unlike the Christmas hats, mobile, PC and Nintendo Switch users all receive the hats for free.
Trivia
Players on all devices can obtain these hats at any time by changing their device's date to sometime in October.

Changing the date back will not affect the hats.
Gallery
The Skeld
MIRA HQ
Miscellaneous