Office is a location in Among Us on MIRA HQ and Polus.
Overview
MIRA HQ
The Office is a medium-sized room located at the end of the northernmost hallway, across from Admin. It has a vent in the upper left corner. Two tasks are found here. Fix Lights and part of Comms Sabotaged are resolved here.
Polus
The Office takes up the space of two long rooms: one labeled as "Office", which features the emergency button and the second stage of Replace Water Jug, and another housing Vitals and all the other tasks in Office. During emergency meetings, players spawn in the left part of Office, huddled around a wide, oval-shaped table with the button placed in the middle. The two rooms are connected by a hallway, which also connects to Admin and a door in the bottom left leading Outside.
Tasks
MIRA HQ
Polus
Features
Vents
MIRA HQ
On MIRA HQ, there is one vent near the top-left corner that connects to Greenhouse, Admin, and Laboratory.
Polus
On Polus, there is one vent in the hallway that connects to Storage and outside of Communications.
Sabotages
MIRA HQ
Comms Sabotaged
Impostors can Sabotage Communications, causing Comms Sabotaged. On MIRA HQ, there is a panel to enter a backup code to resolve the Sabotage in Office. The same backup code must be entered in Communications before time runs out and the code resets.
Fix Lights
On MIRA HQ, Impostors can Sabotage Office, which causes Fix Lights. It can be resolved at the Fix Lights panel in the northern wall in Office.
Polus
Door Sabotage
Impostors can close the doors in Office, locking players inside and preventing players from going in. On Polus, the closed doors can be reopened manually by flipping switches when using the door.
Trivia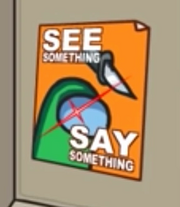 Gallery
Audio