| | |
| --- | --- |
| | Content Mod |
---
Hello there. My name is James. Thanks for visiting my user page.
---
CONTENT MOD
Hello there, I am a content moderator on the Among Us Wiki.
Hello!
This is me. (I go as JJ773 in Among Us.)
Artwork of my Among Us character from the talented Starr!
---
Hey! My name is James and I am just here to help people learn more about the creative game that some of you may have heard of: Among Us! I may just make some edits periodically if I learn something new or have any nice images. Have a great day! :)
---
More beautiful artwork, this one from Cloudydays!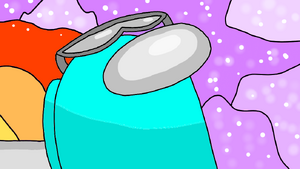 ---
Profile Pictures
Fandom
Discord
magik
Helenaandjames wears Ski Goggles.
| | |
| --- | --- |
| | Helenaandjames plays as Cyan. |
Trivia Time!!!
I try to play as Cyan, but if another player takes or has that color already, I don't really mind too much what color I am.
My sister's name is Helena. That explains my username. Also, literally nobody else has it as their username.
Another username I use is JJ773. It is my name in Among Us, too.
I like to take screenshots in Among Us and upload them to the wiki.
My actual favorite color is turquoise, but it is definitely close enough to cyan for me to prefer playing as that color.
My favorite food is probably 🍉.
My favorite animals are dogs, cats, and turtles. I like most animals though.
I'm not going to keep ranting. Go explore the rest of the wiki!
Some Great People
Community content is available under
CC-BY-SA
unless otherwise noted.