Shhh!
This article is about
upcoming
Among Us
content and will be updated frequently. If you have information, please
add it now

.
Note: Please do not add your own hypothesis to this article; confirm the source of the information you added. Leaked information that was not intended to be released is also not allowed.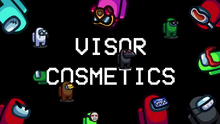 Visor cosmetics are cosmetics announced on June 10, 2021 at Summer Game Fest.[1] They were possibly created to separate hats that accessorize a character's visor, like the MIRA hazmat mask, from the other hats. New cosmetics were shown, such as a scar, a VR headset, and a gud name tag, similar to the dum sticky note. Others were already in-game, such as the plague doctor mask, the angry eyebrows, the Thomas Chestershire monocles, the Right Hand Man mustache, the MIRA security cap, and the hockey mask.
References